Daniel Mckay's Christmas Connections Traditions
Daniel Mckay's Christmas Connections Traditions
Following on with our Christmas Connections traditions posts, today, we talk to Daniel Mckay, an SEO Specialist here and part of the online team.
What's your favourite thing about Christmas?
I love Christmas because everybody is off work and you can spend time with all the family. My nieces and nephews are still at the age where they believe in Santa so it's exciting to go around to see them open their presents on Christmas day.
Tell us about how you celebrate a typical Christmas Day
We wake up early like we're still kids! Me and my partner exchange presents (and also give our labrador her present – although I think she is getting tired of bones!).
We visit my partners parents' house first and end up playing board games like Articulate before going to my family's for a Christmas party and lots of food and drinks.
When do you start your Christmas gift shopping?
In the past I've left it very late and started about a week before Christmas! This year we've started already though so we've turned a corner!
What's the best Christmas gift you ever received and what's on your wishlist for Christmas 2014?

The Nintendo 64 with Goldeneye is still the best Christmas present I've received! This year I'd love some geeky marketing books!… and a Raspberry Pi.
What's your favourite Christmas film and Christmas song?
My favourite Christmas film is The Santa Claus with Tim Allen and obviously Home Alone is a very close second.
My favourite Christmas song is The Pogues and Kirsty MacColl – Fairytale of New York
What's your favourite thing to eat and drink at Christmas?
My favourite Christmas food is pigs in blankets and I usually get a lot of real ale as gifts so I spend 12 days drinking ale and eating pigs in blankets!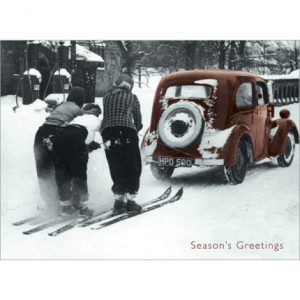 What style will you be choosing for your 2014 Christmas Cards?
I like humorous cards, so something that will make people laugh and smile when they open it.
Tell us about your Christmas tree
We usually get a real Christmas tree but last year we bought a nice artificial one so we don't have to dispose of the real ones every January!
Do you have any other special Christmas traditions?
I try to have a hangover every day!
Wonderful Comments
comments