Christmas Connections
Office Christmas Parties - A Survival Guide
There are few showpiece social events as important as the office Christmas party. Each year, we take - or are
cajoled into taking - the opportunity to raise a glass to mark the arrival of the festive season. Of course, we tend
to view the office Christmas party with a mixture of anticipation and trepidation. What goes on at the office
Christmas party doesn't stay at the office Christmas party, and it can certainly provide plenty of material for the
workplace gossip-mongers. One thing we can say for sure is that the office Christmas party at least forces us
out of our comfort zone.
But if you're wondering just how you're going to get through your office Christmas party, then there's really no need to panic - because we have a guide to help you organise and survive the big occasion. Here, then, are some suggestions you may wish to bear in mind.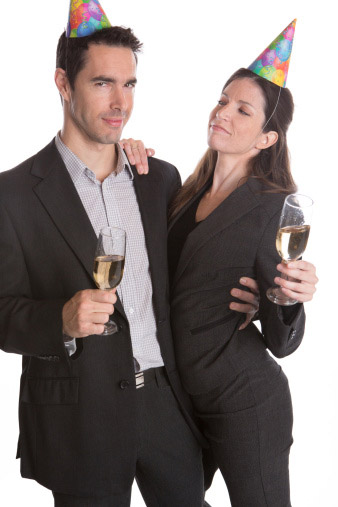 How to plan your office Christmas party
Perhaps the most important thing to remember when planning your office Christmas party is that you need to start preparing months in advance. If you leave everything to the last minute, you're likely to find that it all starts to get a bit chaotic. An article from Eventjuice.com offers some useful tips in this regard. It suggests that the first thing you should do is to set a date for your party. Because the Christmas period tends to be a busy time for most people, diaries are soon filled up - so choose a date and circulate it around the workplace before everyone has a chance to find other things to do.
Timing
Most employers tend to have their Christmas parties on Thursday or Friday evenings, although it might be cheaper to book earlier in the week. Of course, if you arrange your Christmas party for a night early or midway through the week, the chances are your colleagues won't be too productive for a day or two afterwards. It might be best all round, therefore, if you arrange the party towards the end of the week so everybody has the weekend to recuperate.
Budget
It should go without saying that it's also very important to set a budget for your party. Do this in advance - it should help you avoid the temptation of overspending. If you try to arrange things in an ad hoc manner, the chances are it'll end up costing more. However, that doesn't mean you should be stingy. Your office Christmas party is a thank-you to the workforce for their efforts throughout the year. It's important to make them feel valued, so it's worth going that extra mile. Of course, that doesn't mean you can't keep costs in check as well.
Venue
Your choice of venue is, naturally, very important. The best venues tend to go quickly, so don't dawdle. It's a good idea to speak to your colleagues and see what interests them. That way, you should be able to decide on a venue which is likely to be appreciated by almost everyone. Use the internet to see which venues are available in your local area and which are within your budget. Ask for quotes - you may be able to haggle your way to a bargain, so don't be afraid give it a go - and don't book anything until you've had the chance to pay a visit in person. Make sure you discuss your plans in some depth with the events team at your chosen venue, as they'll have plenty of experience in organising Christmas parties.
Music and Entertainment
Nobody wants to sit around in silence at the office Christmas party, so it makes sense to lay some entertainment on to help keep things moving. Perhaps the cheapest option is to recruit a DJ. However, you could hire a live band as an alternative or a complement to a DJ. There are of course many other entertainment options which you may wish to consider, such as karaoke, comedians, dancers, magicians or even a murder mystery night.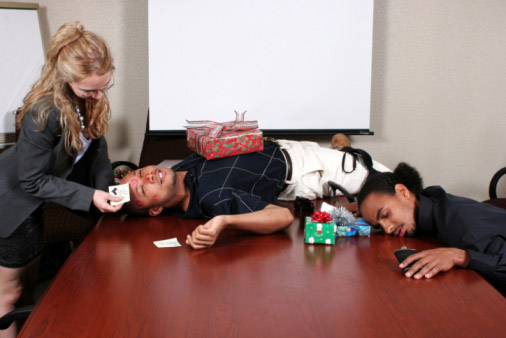 Food and Drink
Arguably the most important part of any Christmas party is the food - so you need to make sure it's good stuff. Don't feel like you have to stick with Christmas staples like turkey. Your workmates will no doubt appreciate a bit of variety, and there's only so much turkey you can stomach over Christmas. Think carefully about your choice of starters, mains and desserts. Again, don't be afraid to ask your colleagues what sort of food they like - they may be able to provide you with some useful ideas.
Naturally, one of the main draws of the office Christmas party is that it provides an opportunity to have a drink and let your hair down. A free bar is always welcome, but some of your guests may choose to abuse the privilege. Think about how drinks are going to be served - from the bar, via waiter service or simply by being placed around the venue so guests can help themselves.
How to survive your office Christmas party
Once you've got everything in place for your office Christmas party, it's time to start preparing for the big night itself. This is easier said than done - there are so many potential faux pas you could make that the whole thing can seem more than a little daunting. We've all heard the horror stories from workplace Christmas parties and some of them can be pretty hard to live down. You shouldn't let that get in the way of you having a good time, though, so try not to be too inhibited. There are a few things you might want to bear in mind to help you get through the night, though.
Alcohol
An
article from the Mirror
observes that as so many people find the office Christmas party so traumatic, there's always the temptation to drown yourself in booze just to survive the ordeal. Needless to say, this particular strategy is fraught with risk. You may find it rather more difficult to keep your opinions to yourself once you've had a few drinks, so it's important that you know your limits and stay within them. Christmas parties aren't like a night out with your friends - there may be repercussions if you overstep the mark. If you don't trust yourself to do so, it might be best to avoid alcohol altogether or simply stay away.
Small Talk
Another article from Time
offers some useful tips with regard to socialising at the workplace Christmas party. It suggests that you might want to brush up on your small talk subjects before you head off to the party - if you've got a few subjects in mind, then this should at least help you break the ice. However, it might be best to avoid any potentially tricky subjects. Politics and current affairs, in particular, can be the cause of some pretty intense arguments - particularly after a few beers. Some people can even get a bit het up about sports. It's probably best to avoid getting into any in-depth debates - office Christmas parties really aren't the time for this - so try to keep it light.
Don't be a Wallflower
Try to get into the spirit of things at your office Christmas party - there's nothing to be gained by hanging around on the sidelines. A sense of humour goes a long way, and you never know - you may even find yourself enjoying the evening if you make the effort. That doesn't mean you have to go over the top, of course, because that's just likely to get on people's nerves.
Don't Discuss Work!
One of the very worst things anyone can do at the office Christmas party is to discuss what's been going on at work. It really is unspeakably tedious. The workplace Christmas party gives you an excuse to forget about all that nonsense for an evening, so steer well clear of work-related topics when trying to make conversation. Of course, this can be difficult when all you have in common with your colleagues is your work. Nevertheless, discussing work at the Christmas party is a glaring faux pas - so don't do it.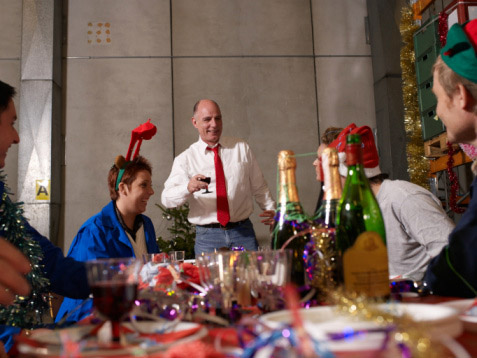 Don't Overdo It
Before you start slamming Herculean quantities of alcohol down your gullet, you should be aware that there can be serious disciplinary consequences if you overdo it at your office Christmas party.
As the Daily Mail points out
, one survey found that one in ten UK workers had been disciplined following inappropriate behaviour at an office Christmas party. This is where self-control can come in particularly handy. Try to avoid getting too close to colleagues - because this can never end well. By the same token, you also need to avoid getting into any rows.
When you find yourself working with people with whom you don't have much in common, you can soon start to get worked up about really petty things - and this tension can boil over after a few drinks. This is why you should monitor your alcohol intake very, very closely. If you don't trust yourself to do this then just stay off the booze completely - it's got to be a better bet than getting legless and then getting into a scrap or some sort of drunken tryst with a colleague.