Christmas is just around the corner and it's time to start thinking about all of those holiday cards that you need to send out. But why bore your recipients to tears with a bog-standard Christmas card straight off the shelf of your local card shop?
Customised photo Christmas cards are a longstanding tradition in the U.S., but have started to become a bit of a trend in the U.K. too! Whether your friends and family live near or far, they'll love to receive a customised Christmas card featuring a snapshot of you and your household on the front, ready to celebrate the festive season.
In this post we will share our favourite funny Christmas card photo ideas for couples, families, and singles alike.
Christmas Card Photo Ideas for Families
Whether you've got a big family or a small one, you want to show off all of your favourite people in one photo. Make your friends and loved ones smile with one of these great family Christmas card photo ideas.
Christmas Costumes
This one is perfect for the family who loves to get into character. Why not dress up as your favourite festive characters on this year's Christmas card? Dad can be Father Christmas, complete with his red velvet suit, hat and long white beard. Your youngest kids can be Santa's elves, while Mum and the older kids can be reindeer, with the addition of some fun antler headbands. Don't forget that one of you should be Rudolph, with a bright red nose!
If you're feeling extra creative, make some cardboard props like trees and giant candy canes, and have someone hold up a sign that reads "Merry Christmas from the North Pole". A picture of you all dressed up will be sure to get your family and friends smiling!
Family Sledging
Sledging is always a popular Christmas activity, even if you're living in the U.K! If it snows where you live (and we hope that it does!), why not dress yourselves up in your winter bobble hats, scarves and coats and pose for an epic sledge photo? Or perhaps try turning the sledge into Santa's sleigh, and recreating the iconic image of Father Christmas with his reindeer ready to take flight.
Even if you're out of luck and there's no snow, all you need is to take some sledding shots at a nearby hill and have someone with photo editing skills add a snow-like filter over the photo. Everyone will be so impressed with your amazing Christmas card, they won't even care if it's not actually cold enough to have a white Christmas!
Ugly Christmas Jumper Party
This one is perfect for the more festive family members! If you're all feeling extra excited about Christmas and want to show it off, why not buy or make your own ugly Christmas jumpers and take a family photo in them? Ugly Christmas jumpers usually feature lots of bright and clashing colours, bold fairisle patterns and garish designs. Some Christmas jumpers even feature 3D elements such as bobbles, a snowman's nose sticking out, or even a light-up Rudolph nose. Now is the perfect time to go hunting in the local charity shops – the more old-fashioned and outdated the design, the better!
Once everyone has their sweaters on, take a group photo with the biggest fake smiles possible – or have everyone look disgusted and defeated while they pose in their ridiculous getups. The more awful the sweater looks, the funnier this Christmas card will be for all of your friends and family.
Festive Food Fight
Nothing says Christmas like a family catastrophe, right? If you're want to have some fun with your family Christmas card photo and don't mind cleaning up a mess, why not stage a festive food fight in the kitchen or dining room. Have everyone wear paper cracker hats and get some action-shots of everybody flinging sprouts, stuffing balls or gingerbread men around the room.
You can also try positioning yourselves as if you were mid-way through making one of your famous family recipes – so for example, Mum and Dad could be chopping up some carrots while the kids make a mess of mixing ingredients in bowls.
Silent Night
Everybody dreams of having a "silent night" on Christmas, as the old carol proclaims. But if you've got kids, you'll know this isn't always possible! This hilarious photo idea will present an ingenious solution and make your recipients laugh out loud.
If your kids are happy to go along with the joke, tie them up (loosely, of course!) with some festive Christmas lights or tinsel, and place some tape over their mouths. You and your partner can then pose enjoying a glass of wine or sherry, with your little ones looking thoroughly annoyed behind you, unable to make their usual Christmas racket!
Christmas Card Photo Ideas for Couples
Just because you don't have any kids, that doesn't mean you can't take part in the Christmas card photo fun! Here are some fantastic ideas for Christmas card photos that are perfect for couples.
Christmas Tree Disaster
This one is perfect for the couple with a sense of humour! Why not stage an epic Christmas tree disaster photo? The idea here is to get an action shot of one of you tipping over your Christmas tree while attempting to decorate it – with baubles, decorations and tinsel flying everywhere. This is a great opportunity to get the family pets involved in the mayhem, too!
Your partner could be running towards the tree, arms outstretched, trying to catch the tree before it crashes onto the floor – or alternatively, sitting in an armchair at the edge of the shot, sipping on a beer and keeping well out of the way of the chaos!
Christmas Baking
This is perfect for the couple who like to bake in their spare time! Get your best Christmas aprons on and get snapping while you both bake a batch of Christmas cakes, gingerbread men, mince pies, or any other Christmas treat you fancy. Bonus points if you're both coated head to toe in flour, or you manage to catch a snap of your dog running away with a cookie in his mouth.
If you want to make it an even funnier photo, create a baking disaster moment when you both end up dropping all of the ingredients (or even an entire tray full of baked goods) onto the floor!
Snowball Fight
If you're lucky enough to have snow this winter, why not take advantage of the weather and stage a fun snowball fight for the photo on the front of your Christmas card? Get your camera ready with a timer (or ask a friend to play photographer) and snap some shots of you both tossing snowballs at each other. This is the perfect idea if you hate posing for photos, as candid shots of you both truly enjoying yourselves will make for the best Christmas snowball fight photos.
If there's no snow to be found, why not create a snowy scene in your very own living room by draping white sheets over the backs of chairs and sofas, scattering some fake snow around the room, and throwing balls of cotton or paper at one another instead? Yes, it might look a little silly – but that's the whole point!
Santa and Mrs. Claus
If you and your partner love dressing up, this is the perfect Christmas card photo idea for you both! Get yourselves decked out in Santa hats and full-length red dresses or suits, and pose as Father Christmas and his doting wife – or, if you're a same-sex couple, who's to say you can't both be a Santa or a Mrs Claus? Invest in a long white beard or curly wig, and pose in front of your Christmas tree or roaring fireplace for a classic Christmas scene.
And if you have a cat or a dog, why not get them involved, too? Dress them up as an elf or a reindeer, pop them on Santa's knee for the picture. If they're not too keen on the costumes, no worries – just keep snapping away as your pet tries to escape from its outfit, and it'll make for an even funnier picture.
Christmas Photo Ideas for Single People
If you live alone and don't have anyone else in your life to take a Christmas photo with, don't despair! There are plenty of fun Christmas photo ideas for single people that will make for great solo shots.
The Elf on the Shelf
The elf on the shelf is a fairly recent Christmas tradition that has made its way over from the States – it involves a small elf doll, who sits on the shelf and spies on the kids, reporting back to Santa when they've misbehaved. If you're single, why not become the elf on the shelf this year?
Get yourself an elf costume (or make one yourself, if you're feeling crafty), and perch on the edge of a chair as you pose for a picture. Take another shot of your empty living room, then splice the two images together in a photo-editing program to make it look as though you're sitting on the shelf!
Home Alone
Home Alone is everyone's favourite Christmas movie – and if you, too, will be home alone this Christmas, why not recreate the classic movie poster featuring Macaulay Culkin grasping his face in surprise?
Pose with a Christmas tree in the background, and for an added laugh, dress your cat and dog up as burglars, complete with balaclavas and swag bags.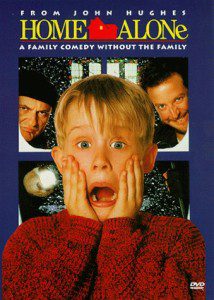 Single Bells
This Christmas photo card idea is perfect if you love a bit of self-deprecating humour, and you wouldn't mind poking fun of the fact that you'll be single this Christmas. It involves a hilarious pun on the classic song "Jingle Bells" – Single Bells!
Get yourself a string of sleigh bells and pose with it – or even better, fashion yourself a jingly outfit with bells sewn in, or decorate your Christmas tree with bells while you sit next to it in a Santa hat. Hold up a sign (or a caption to the picture in post) saying "Single bells, single bells, single all the way!" Don't forget to pose in a downhearted, dejected expression – ideally with a glass of wine in your hand and an empty bottle in the other.
At Christmas Connections, we offer a huge variety of classic and contemporary Christmas card designs, including a range of photo upload Christmas cards that you can personalise with your own full-colour image. All of our cards are also fully customisable with your choice of Christmas greeting inside – choose from one of our templates or write your own from scratch!
When you've approved the preview, we'll professionally print your Christmas photo cards and send them to your door, complete with high-quality envelopes. We also donate a portion of every order to charity, so you can do some good this Christmas and help raise money for great causes!
Wonderful Comments
comments