The air is colder than usual, the lights are up on the streets and the smell of freshly baked mince pies suddenly fills the supermarkets. Yes, it's almost that time of the year again and for sure, you've been looking forward to the holiday season just as much as anyone else.
But before the holiday rush kicks in and your to-do list starts piling up, it's best to start the holiday cheer by curating a list of people you'd want to send Christmas cards this year. But the question is: who deserves a card and who can you skip this time?
As much as we'd like to, it isn't very practical to send a Christmas card to absolutely everyone we know. Not only will the cost add up, but can you imagine the time it would take to sign, seal and deliver them all? That being said, it's important not to miss anyone important out accidentally!
We've made a list of the most important people that should be on your Christmas card list this year – and pointed out some people you can safely skip.
Which Family Members Should You Send Christmas Cards To?
For many of us, family members are the most important people in our lives. Although you might talk to each other at home or communicate through phone calls and messages with those who are away, there's no better time than Christmas to really send family members heartfelt messages that tell them how much you care about them.
Here is a list of the family members that you should send Christmas cards to this year:
• Your parents and step-parents
• Grandparents
• Brothers and sisters
• Nieces and nephews
• First cousins
• Close aunts and uncles
• Children and grandchildren
If you want to be extra creative, you can choose a theme for the year and create personalised cards for each family member on your list. Why not choose a photo upload Christmas card this year for your relatives, including a family snapshot of everyone in your household?
Who you can skip: Although family members always come first when it comes to special occasions like Christmas, you don't need to send Christmas cards to absolutely everyone you're related to – especially those who you're not really close with.
For example, most people don't send Christmas cards to aunts, uncles or cousins that they aren't close to. If you don't generally keep in contact with a particular relative, and you'd feel uncomfortable with sending them a card (or don't even have their address), you can skip them.
But if you think that a Christmas card would make a relative smile or if it would help a family member feel better after going through a tough time, then of course, you can send a Christmas card. For example, though you may not see or speak to your Great Aunt Enid very often, it may still make her day receiving a card from you!
Which Friends Should Receive a Christmas Card?
What are we without our closest friends anyway? Like they say, friends are the families we choose for ourselves.
You've met some great people throughout your life—childhood best friends, school friends, work friends and even new acquaintances—that you've built a great relationship with. These people deserve to receive a special Christmas card with messages that let them know how thankful you are of their friendship.
Make sure to personalise your card so that friends can really feel extra special on Christmas day. Receiving a generic pre-written Christmas message can feel a little cold – so take the time to think up something special to write, and personal to each friend.
Who you can skip: Friends come and go in our life, and that's all part of growing up. So, if you have friends that you haven't talked to or spent time with for a long time, then you can skip them on the Christmas card list this time.
As a general rule, if you'd feel uncomfortable going out to lunch with them, then you needn't send them a card. Another good rule to follow is – did they send you a Christmas card last year? If not, then there's your answer.
Do You Give Christmas Cards to Teachers?
Teachers play such a huge role not only in the life of your children but also your own since they stand as second parents when your children are in school.
Giving teachers Christmas cards is also a great gesture to show your children that you value and respect their teachers. Make this a family activity and ask your children to pitch in on making these Christmas cards and you can even add a holiday gift if you're feeling more generous.
Sending these sweet and thoughtful cards to teachers, counsellors and even administrators is an excellent way to teach your children how to appreciate the good people around them. You can even do the same for other people who are helping you along the way like your pet sitter, nursing staff and even your security.
Who you can skip: You can be as generous as you want when it comes to giving teachers and other service providers Christmas cards. Ask your children for their input here. They may wish to choose one special card for their favourite teacher only (e.g. their tutor) or they may wish to hand out cards to all their subject teachers, too. Follow their lead!
Should You Send Christmas Cards to Your Children's Friends?
Chances are, your children have already met some great people in their young lives. It could be their classmates, your neighbours or your friends' children.
Ask your children who they feel are the most special friends in their circle and create Christmas cards for them. You can personalise your cards to contain photos and heartfelt notes from you and your children. If you want, you can also include some simple gifts to really show these people you appreciate them during the holiday season.
If your child is part of a small classroom, you can of course give out Christmas cards to the entire class! Why not choose a funny or cute Christmas card, such as Marshmallow Snowman or Christmas Pine Cones?
Who you can skip: When it comes to skipping people on this part of your list, you can always ask the help of your children since they know exactly who they'd want to honour at this time of the year.
Again, don't think that you have to give Christmas cards to all your children's friends. Ask them to pick two to three people each and spend time creating those special cards for them. But if you're giving cards to most of the class, it may be best to "round up" and hand out cards to everyone, rather than leaving out certain people.
Should I Send Christmas Cards to Colleagues?
You spend a lot of time with your colleagues and you've no doubt already built strong bonds with some of them. Christmas is one of the best times to make these people feel that you appreciate their camaraderie and value their contribution to your workplace. Who you want to include on your list is entirely your choice.
If you're working for a small business, then you can give cards to everyone. In fact, it's probably best not to leave anyone out if you're part of a smaller company – don't forget important yet often overlooked workers such as the cleaner and receptionist!
If you're working for a big company where there's hundreds of employees, you can choose a few colleagues that you're close with – such as those on your team, or only those whom you normally interact with during working hours.
Now, if you're a manager or supervisor, of course, you'd want to send everyone a card and not just your favourite employees so there's no bias.
Who you can skip: with colleagues, you have the freedom to include everyone on your list or only choose a few people within your circle. Just make sure that you don't make anyone feel left out, especially if you're only working with a small group.
Should I Send Christmas Cards to Neighbours and Acquaintances?
As a general rule, you don't have to send Christmas cards to people you've only just met, or people you don't know very well. It might feel a little awkward to send a card to someone you're only just on speaking terms with.
That being said, you can feel free to send a card to anyone you'd like to wish a merry festive season – including your neighbours and acquaintances. As long as you know their name and where they live (or have the opportunity to hand the card over in person), they'll appreciate the thought!
Just be sure, if you don't know the person very well, to be careful when choosing a Christmas card design. Steer clear of anything containing religious imagery or wording if you're unsure of their faith – stick to something neutral, such as a beautiful snowy landscape scene, like The Stag Family.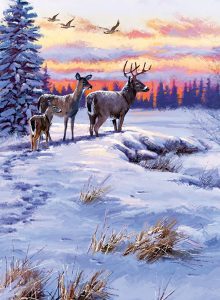 Where Can I Buy Christmas Cards for 2021?
Christmas is a great time to let the people you love know how much you value and cherish them, and you don't need expensive gifts to do that.
Christmas cards have been given to people across Britain for centuries, and have become a solid part of the British holiday tradition. It's because these cards are pretty inexpensive, but they hold a lot of value to those who receive them.
What matters most is the message it contains to let the people you love know how much you appreciate them during the holiday season. It may have been a tough year but nothing should stop us from celebrating the most wonderful time of the year!
If you're looking for affordable, easy-to-order, customisable and professionally printed Christmas cards for 2021, look no further than Christmas Connections. We have hundreds of designs in various styles and themes, and every card we stock can be customised with your own wording free of charge.
We even offer photo upload cards for that extra personal touch! With charitable donations made with every order, and envelopes supplied with every card, why not give Christmas Connections a try this year?
Wonderful Comments
comments