Picking the right Christmas card to send to your friends, family, colleagues and professional contacts can be quite tricky. But if you're an animal lover – or you know someone who is – we've got you covered.
Animal-based Christmas card designs are perfect for every purpose, whether you're sending corporate cards to clients, or greetings to your loved ones. They're beautiful to look at, and due to their non-religious theming, animal Christmas cards work well for sending winter wishes to people of any and all faiths (including none at all).
Here at Christmas Connections we stock a wide range of Christmas card designs for animal and bird lovers, featuring some of nature's cutest critters such as deer, rabbits, robins, swans and even big cats!
Here are 15 of our favourites.
No animal gives off a more Christmassy vibe than reindeer. This beautiful card features a traditional illustration of two of Father Christmas' magic deer, traversing through the snowy night to deliver Santa's gifts. Snow falls gently all around them as they make their way. The reindeer wear silky red bridles and harnesses decorated with sleigh bells to add a pop of colour to this lovely card.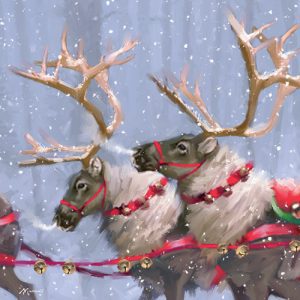 Christmas Wood is a gorgeous, snowy landscape scene featuring a traditional illustration of a clearing in a wood during the wintertime. A beautiful white Christmas tree is the focal point of the design, decorated in lights and shiny baubles. Around the base, a collection of woodland animals have gathered on the snowy ground to gaze up at the tree in awe. Bids, deer, rabbits, foxes and squirrels can all be seen admiring the beautiful Christmas decorations, while snow falls softly down from the sunset sky above.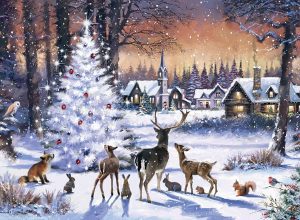 Who doesn't love cute, fluffy, baby penguins? This adorable winter card features a stunning photographic shot of a group of penguins in Antarctica. Seven sweet baby penguins are being watched over by a single adult, who looks a little grumpy at being given this babysitting responsibility! The background of the card is a gorgeous expanse of pure white winter snow.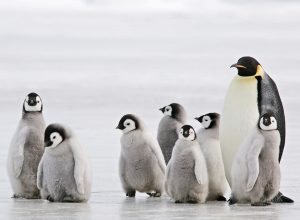 This stunning photographic Christmas card by Jonatan Pie features everyone's favourite fluffy snow-dwelling critter – the majestic arctic fox. As this beautiful, pure white animal traverses over a rocky and icy landscape, it gazes towards the camera curiously. Its bright amber eyes are a pop of colour, contrasting gorgeously with its snowy white body.
This cute cartoon design would be ideal for any cat lovers among your friends and family! It depicts three curious felines – one ginger, one smoky grey, and one brown tabby – perched on a snowy rooftop on Christmas Eve at night. As the cats gaze up into the sky with wonder, Father Christmas flies past in his iconic sleigh, pulled by six of his faithful reindeer. If only cats could talk!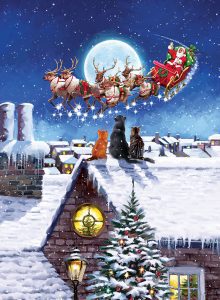 This is a beautiful and traditional illustrated Christmas card design depicting a gathering of donkeys at a farmyard entrance. The three furry brown donkeys poke their heads over the gate, peering down at two cats and an adorable yellow Labrador puppy who have come to greet them. Snow falls softly down over the village cottages in the background, their inhabitants unaware of this curious meeting of animals taking place in a snowy field.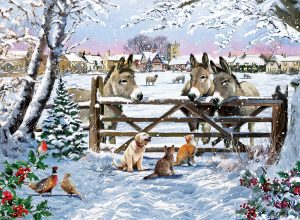 The robin is not only everyone's favourite winter bird, but also a long-standing symbol of Christmas. Robins were first associated with the festive season when the Victorian postal workers adopted their famous red uniforms, earning the nickname "robins". A robin on a Christmas card was therefore symbolic of the postman delivering it! On this card, a beautiful painted robin sits in a snowy hawthorn bush, nibbling on a bright red berry.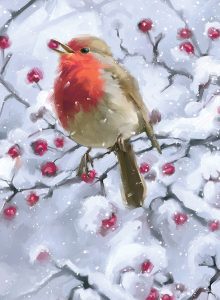 This unusual Christmas card features a coloured pencil style illustration of a sweet seal pup, sitting on a patch of ice. A lot of care and detail has been put into outlining every one of his gorgeous white strands of fur, giving this seal an adorably cute and cuddly look! In the background, great mountains of ice and snow stretch out to the horizon, underneath a beautiful sapphire blue sky.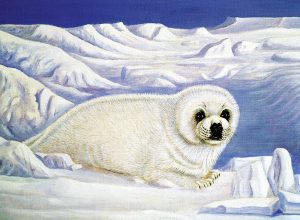 The red squirrel is one of Britain's most adored woodland creatures – although these days, sightings are becoming increasingly rare as conditions favour its rival (the grey squirrel). This beautiful photographic shot depicts an adult red squirrel in all the glory of its winter coat, as it searches for food along a snow-covered branch. The squirrel stops to nibble on a morsel, its fluffy ears pricked up and its sweet nose adorned with a cluster of snowflakes.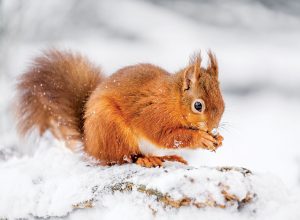 This traditional illustrated Christmas card features a gorgeous flaxen chestnut Shetland pony, standing in a snowy field during the winter. Its blonde mane blows gently in the breeze as it stands grazing on a patch of hay, with several white sheep in the background. In the foreground, a holly bush stands out against the white snow, its green leaves intermingling with bright red winter berries. The sky overhead blends from azure to pink in this beautiful sunset scene.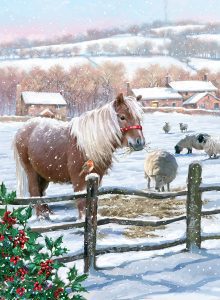 This stunning and unusual Christmas card features an animal that we may not necessarily associate with the festive season, but which finds itself right at home in snowy lands – the magnificent Siberian tiger. In this beautiful illustration, a bright orange tiger prowls through a cold and icy forest, his paw prints visible in the deep snow behind him. Tall evergreen and bare winter trees tower over him in the background.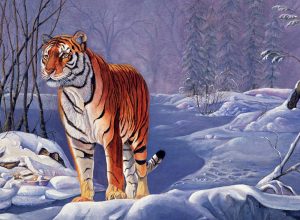 Red foxes are some of Britain's most admired native woodland creatures. The majestic red fox featured in this delightful illustrated Christmas card design makes his way through a barren snowy landscape, looking over his shoulder at the path he's taken. In the background, the first patches of new spring grass poke through the snow, signalling the changing of the seasons on the horizon.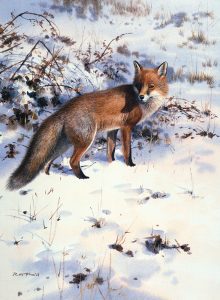 This traditional illustrated Christmas card features a simple yet beautiful design depicting a robin and a hare, two of Britain's beloved native animals. The hare pauses while hopping across a snowy winter field to observe a red-breasted robin, who is sitting perched on a nearby frost-covered bush. The robin's beak is open wide in song, his chest puffed out regally as he calls out to the forest. A lovely winter card.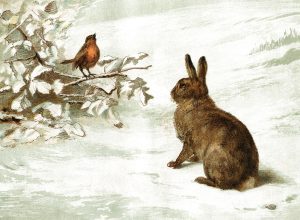 Perfect for any horse-lover, this breathtaking Winter Ponies design features an incredible photographic shot by Charl van Rooy depicting a group of wild ponies in the winter. The ponies range in colour from pale grey to a deep chestnut brown, and they casually graze on the barren, snowy field, with a gorgeous golden sky overhead. The focal point of the card is a brown and white pinto pony, looking straight at the camera in the centre of the shot.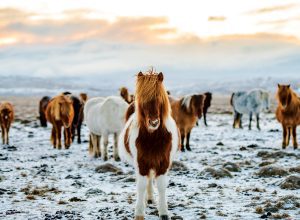 Last but by no means least, this beautiful photographic Christmas card depicting a family of mute swans is ideal for any admirer of these regal British birds. Six baby cygnets paddle gently across a deep blue lake, leaving a trail of ripples behind them, accompanied by their doting mother. Large snowflakes fall softly from the royal blue sky above, completing this winter scene. A reflection of the swans can be seen in the still water beneath them.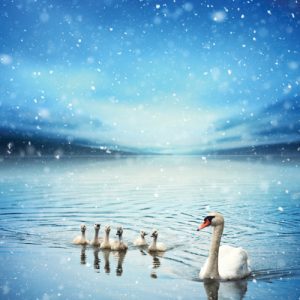 Why Choose Christmas Connections for This Year's Christmas Card?
At Christmas Connections, we have over 100 years' worth of experience printing high-quality cards under our parent company CCA Occasions. You can rest assured that our beautiful designs won't disappoint as you join our thousands of happy customers.
All of our Christmas card designs are fully customisable with your own greeting, and some even offer front personalisation. What's more, for every card that you buy, we'll make a donation to a good cause on your behalf. Simply choose your preferred charity upon checkout, and we'll do the rest.
Our Animals and Birds Christmas cards couldn't be easier to personalise with your choice of wording, font colour and style. Once you approve the preview, we'll have your cards professionally printed and delivered to your home or office, complete with high-quality envelopes. All you have to do is sign, seal and deliver them to your lucky recipients!
Wonderful Comments
comments