Holidays are all about sharing the time with your loved ones. And for many of us, the person that we look forward to sharing Christmas with the most is our life partner. There's nothing better than sharing those beautiful festive moments with the love of your life!
Obviously, you want to show your partner how much you appreciate them this Christmas. That's why it's essential to choose a beautiful Christmas card for them, and write the perfect romantic Christmas card message inside to show them how much you really care. The problem is that when it comes time to sit down and write these sweet messages, you may be at a loss as to what you should be writing. Words don't come easily to all of us!
If you are looking for inspiration that will help you craft the perfect Christmas card message for your girlfriend, boyfriend or partner, read on. This guide is stuffed full of the best romantic card message ideas for your lover.
Romantic Christmas Card Messages for Your Wife or Girlfriend
Christmas cards mean a lot to the ladies – and the most important thing is that you don't just pick a generic card off the shelf and scribble your name. Take some time to think of a sweet and personal message to show her how much she means to you. For example:
1. You light up the room like the brightest Christmas tree. You bring that light into our lives and bring us joy all year long. I love you lots. Have a very Merry Christmas, my love.
2. During Christmastime, I'm elated because I am fortunate to have so many people by my side to offer love and support. To value me. I just want to thank you for the love and patience you offer me every day. I love you so much and wish you a happy Christmas holiday.
3. I'm the luckiest and happiest boyfriend/husband in the entire world. I've the best partner and am so thankful to have you by my side. I just want you to wish you the very best wishes. I love you. Merry Christmas.
4. I don't need any fancy gifts this holiday season. In you, I have the greatest gift anyone could ever give me: the gift of love. Merry Christmas, my dear.
5. I may not be great when it comes to sharing my feelings, but I want you to know just how awesome I think you are. You have captured all of my heart and soul. Wishing you the best Christmas, love.
6. Merry Christmas to my queen. You are an amazing gift in my life all year long that I'm truly blessed to be loved by. All I want for Christmas this year is to have you by my side.
7. My love, I just want you to know that I'm so fortunate that you are in my life. I love every second that we spend together and look forward to continuing to share these amazing moments with, whether they are big moments or small. Merry Christmas, my beautiful wife/girlfriend.
8.Christmas has always been a holiday that is special to me. But having you by my side this holiday season has made it even more special. I hope you have a Merry Christmas, my sweetest love.
9. During the Christmas season, it's normal to start looking back at the year and all of those moments that you want to remember. I can't think of anyone else who I would have rather spent the year with than you. Have a very Merry Christmas.
10. You are one of the greatest things that have happened to me. I can't remember what life was before you and I can't imagine not having you in my life. I'm thankful for you. Merry Christmas, my love.
Don't forget to choose the perfect Christmas card design to match her tastes. For example, if she's an animal lover, go for a cute critter-themed card such as Antarctic Babysitter. Or, if she's the sentimental type, she might absolutely love a Photo Upload Christmas card featuring a sweet snapshot of the two of you.
Romantic Christmas Card Messages for Your Husband or Boyfriend
Men are generally seen as less emotional and sentimental than women – however, that doesn't mean that your boyfriend or husband doesn't have a soft spot when it comes to you. He's bound to appreciate one of these lovely Christmas card messages, especially written in your own hand.
1. Thank you for everything that you do and making all of my Christmas wishes come true. You are the greatest gift that a woman could have ever asked for.
2 I'm blessed to have a man like you in my life. Thanks to you, I now know the meaning of true Christmas joy. I'm happy to celebrate these holidays and many more with you.
3. I love you more than words can say. You are my Christmas dream come true. I can't wait to see what the next year brings us.
4. The love that we have burns brighter than any Christmas tree lights. I hope that every year brings us the best year yet. Anything is possible with you by my side.
5. Christmastime is all about being with the people that you love and making memories with them. Some of my greatest memories are my holiday moments with you.
6. If you need me, I'll be under the mistletoe waiting for a holiday kiss from the love of my life. Merry Christmas, my king.
7. Wherever I am, I always feel like I'm home for the holidays with you by my side. I wish you the merriest Christmas and an amazing New Year. I can't wait to see what's in our next chapter.
8. Your kisses and warm embrace is all I need to keep me warm this holiday season. I wish you a very Merry Christmas, my love.
9. You are hands-down the sweetest husband/boyfriend in the entire world, and I'm blessed to have you in my life. Thank you for being the greatest gift I've ever received.
10. As a little girl, I dreamed about spending a first Christmas with my special someone. Thank you for sharing these holidays with me and showing me how wonderful the holidays can really be.
Pick the perfect Christmas card to suit his personality, and you'll be good to go. For example, if he has a fun sense of humour, this hilarious cartoon Polo Bears design will be right up his street. If he's a more traditional type of guy, go for a classic festive scene such as Interior Christmas.
Romantic Christmas Card Messages for Any Romantic Partner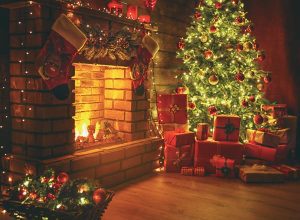 If your partner is non-binary or you don't feel that the above wording ideas would really suit their personality, here are some more neutral and genderless Christmas card message ideas suitable for any romantic partner!
1. Merry Christmas! I'm so grateful to have someone as special as you in my life. You are a loving, kind, generous, fun, and thoughtful person that makes every day incredible. You mean more to me than I could possibly share.
2. I just wanted to say "Thank you" for all of those special moments, love, support, and happiness that you have given me throughout this year and every other year. You are truly special to me.
3. All I want for Christmas is to spend the holiday with you by a warm fire and drinking hot cocoa. That would make this the best Christmas. Sending you all of my love.
4. I wanted to let you know that you are so special to me, and I wish that you have such a Merry Christmas even if we can't be together this holiday season.
5. You can save yourself some money this holiday season because you have already given me the greatest gift: your love. I'm very blessed that I get to have you in my life and cherish every moment that we have together.
6. I used to think Christmas was the most magical holiday before I met you. Now you make the holidays even better. Thank you for everything, my love.
7. Merry Christmas, my love. You bring so much joy and happiness in my life that every day seems like Christmas with you.
Hopefully, these ideas will inspire you to write your own incredibly romantic and deeply personal message to your loved one. Or, if you're not feeling creative, feel free to use any of these messages as they are – we won't tell!
Where Can I Order Christmas Cards?
Just as important as the message inside, though, is the card itself. Why pick a basic design from your local greetings card shop when you could order something truly personalised and special with the click of a button – while donating to charity at the same time?
At Christmas Connections, we stock a fabulous range of Christmas cards, from the traditional and religious to contemporary digital art designs. All of our cards are fully customisable, so you can choose one of our pre-written greetings or enter your own wording with our easy-to-use online editor. We even have a range of photo upload cards, so you can add your own picture to the front! You won't find that in your local card shop.
What's more, for every card you buy, we'll donate 10p to a charity of your choice. Simply select your preferred good cause from the drop-down menu when you place your order. Choose Christmas Connections for all of your Christmas cards this year, and you'll help to make a real difference to those in need this festive season.
Wonderful Comments
comments