Coronavirus Christmas Cards
View our Funny Christmas Cards here!
Christmas time has always been the season of friends and family; for spending quality time with loved ones, and showing them that you care. But in 2020, our Christmas season is going to look a little different than it has in recent years, thanks to the Covid-19 pandemic.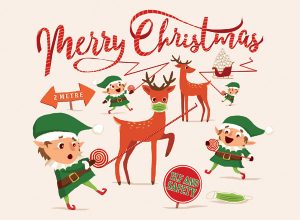 With local restrictions still in place that prevent many of us from meeting our nearest and dearest face-to-face, how do we ensure we stay connected to those that mean the most to us?
Some people may think of traditional paper Christmas cards as a little old-fashioned – but we strongly disagree. Sending a Christmas greetings card is a beautiful and personal way to remind someone that you care, that they matter, and (most importantly of all) that you'll be there for them on the other side of this pandemic.  There's no better feeling than opening a Christmas card from your loved one – and it's more important than ever in 2020. Read on to find out why!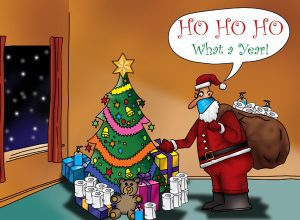 Why Are Christmas Cards Important in a Pandemic?
Each year in the U.K., we write about 1 billion Christmas cards. Christmas greetings have been sent in the standard format of a folded paper card for at least the past 150 years.
The first ever Christmas card in the U.K. was reportedly sent by Sir Henry Cole in 1843, one of the founders of the Post Office. He went on to sell his Christmas card design, depicting a family enjoying their Christmas dinner, to the public for 1 shilling each. About 1,000 copies were reportedly sold.
The idea soon caught on, and now Christmas cards are a festive staple all over the world. Many of us couldn't imagine Christmas without cards, but this year in particular, they're even more important. There are many benefits of using Christmas cards to stay in touch with your loved ones during a pandemic.
Stay Connected Without Risking Your Health
In the current circumstances, it's much more difficult to meet and spend time with loved ones than it usually is. Even those of us that are lucky enough not to be considered 'vulnerable' must still stay socially distanced. If you live in an area with local restrictions, you may not even be able to visit loved ones in their homes at present.
We're lucky to live in an age in which it's possible to telephone or video-call our friends and family. But sending cards and letters in the post is another important way that you can stay in touch with those most important to you, without the risk of contracting or spreading the virus. There's nothing quite like receiving a card in the post, especially when you're feeling lonely!
Show Vulnerable Loved Ones You Care
The Covid-19 pandemic has been particularly difficult for the elderly, and those living with underlying health conditions or weak immune systems.  If you have any vulnerable loved ones who have been advised to shield from the virus, they'll need a lot of extra support and love. This is especially important over the Christmas period, when they may not be able to celebrate with family or friends face-to-face.
Sending a beautiful, personalised Christmas card is a great way to remind your vulnerable nearest and dearest that you care about them, and you're thinking of them. Why not send them a thoughtful card along with a care package of Christmas goodies?
Handwriting is More Meaningful than Text
In this new 'digital age', more and more individuals are foregoing traditional paper cards, in favour of sending greetings messages through social media and text. This is for a variety of reasons; chiefly, our increasingly busy lives getting in the way.
It's all too easy to press a button on a screen and wish someone a 'Merry Christmas' – you can even send a mass-message to all of your contacts at once. Though it may be more effortful, handwriting a Christmas message inside is so much more personal. It shows your loved one that they aren't just a name on a screen to you – instead, you've taken the time to choose a card, write a message just for them, then stamp, address and post it.
Thanks to Covid-19, we all need a little cheering up – so take the time this year to send your Christmas greetings in the most meaningful way.
Spread All-Important Christmas Spirit
There's no better feeling than waking up to the sound of a Christmas card being pushed through your letter box. For many of us, the morning post usually brings nothing but bills and advertisements – but at Christmas time, it's different. Opening cards from loved ones, and displaying them proudly around the home, is always one of the many unbeatable joys of the festive season.
And in 2020, spreading Christmas cheer is even more important than ever before. In the midst of a worldwide pandemic, it can be easy to focus on everything we can't do, and forget to have fun. Christmas cards are an easy, affordable and thoughtful way to spread the festive spirit among your friends and family, and get everybody enjoying themselves this holiday season.
Keep a Festive Tradition Alive
Giving Christmas cards to friends and loved ones has been an important festive tradition for over 150 years. Since the very first commercial Christmas card was printed, sending paper cards through the post during the holiday season has been the norm.
And, like most traditions, it's there for a reason. Christmas cards are, as we've already mentioned, a brilliant way to show your loved ones that you care at this special time of year. And in 2020, thanks to the pandemic, Christmas cards will be a great tool to help bring some semblance of normality to the festive season.
Don't worry: you don't have to risk your health and go out to a busy card shop. Instead, why not order your Christmas cards online and have them delivered to your door, ready to write?
Here at Christmas Connections, we have over 100 years of experience manufacturing and distributing high-quality Christmas cards, both commercially and direct to consumer. We have a huge selection of cards to choose from, with over 200 designs in a variety of styles.
From photographic images to digital art and traditional illustration, you're sure to find a design that suits you. And if you're not sure whether you'll like it, you can even request a free sample!
Our competitively priced cards can all be personalised with your own message and name, or company name. What's more, we donate 10p from the sale of every card to a registered charity – and you can choose which one to support.
We print all of our cards on the highest-quality cardstock. Every order will be posted directly to your door, supplied complete with envelopes. All you have to do is sign each one and pop it in the post box. Why not request a free 2020 brochure today?
Wonderful Comments
comments