Personalisation Explained
Whether you are looking for a humorous, traditional or religious card. Or you want to incorporate your own image and logo onto a card. We are sure you will find plenty or inspiration and ideas from this years Christmas card selection.
Once you have chosen the card you would like to send this year, it is so easy to personalise with any greeting or message you like.
We've broken down our personalisation process into five easy steps!
Step One
Choose your card, calendar or additional item.

Step Two
Select a typeface and greeting, or create your own greeting.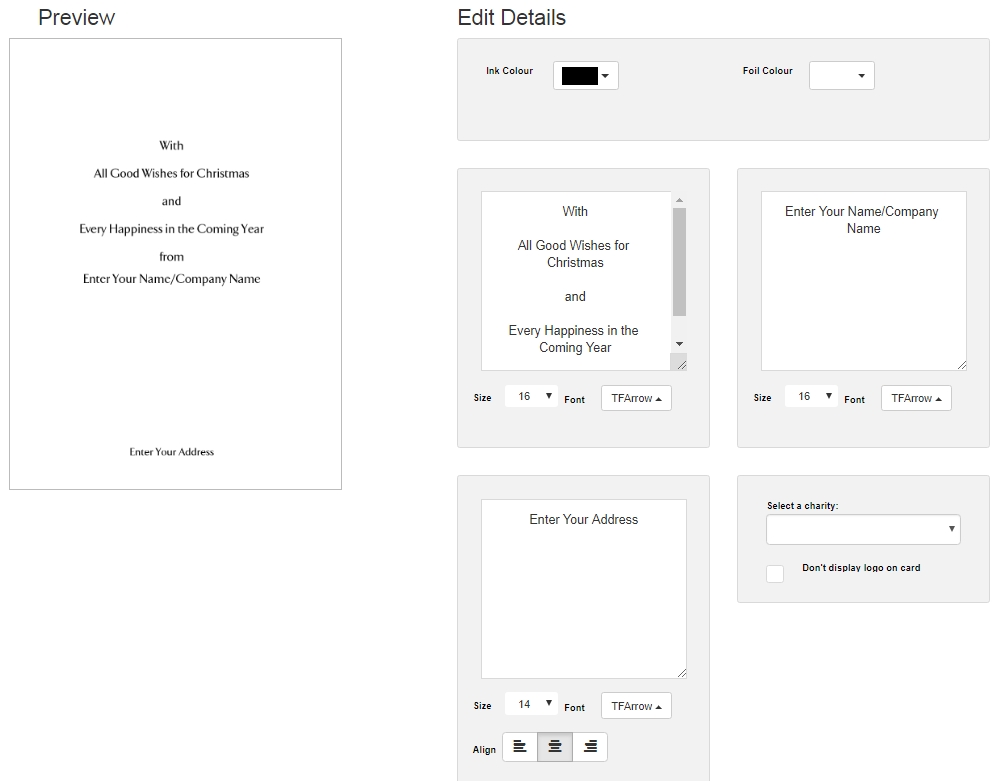 Any greeting can be combined with any typeface. Except Greeting 11 which is only available in typeface 101.
If no choice is made we will use typeface 101 and greeting 1.

Step Three
Add your inside print choices.
Black Ink – we print all of our cards in black ink as standard.
Digitial Colour – We can print your card inner in up to 4 colours for an additional charge.
Artwork – Company logos and signatures can be added for an additional charge.
Inner Foil Print – Choose one of 4 foil colours, red, green, gold or silver for an additional charge. (Inserted designs only)
Please Note – Minimum resolution for logos is 600dpi.
Please attached any artwork with your order. Failure to do so will cause delays. 
Signatures – These will be randomly placed to suit card size.
Charity – If you wish to support a charity add the charity name onto your order form.

 Step Four
For peace of mind, order online and proof before you submit your order. FREE email proofs are available for non-online orders upon request.
Step Five
Delivery – £6.25 + VAT to one UK mainland address.
For all other delivery charges please see the price list.
Delivery before Christmas for orders placed after 14th December 2018 cannot be guaranteed.

Wonderful Comments
comments